"Goldman Environmental Award Winners' Next Steps"
Chiang Khong, Chiang Rai - January 24th to 26th, 2023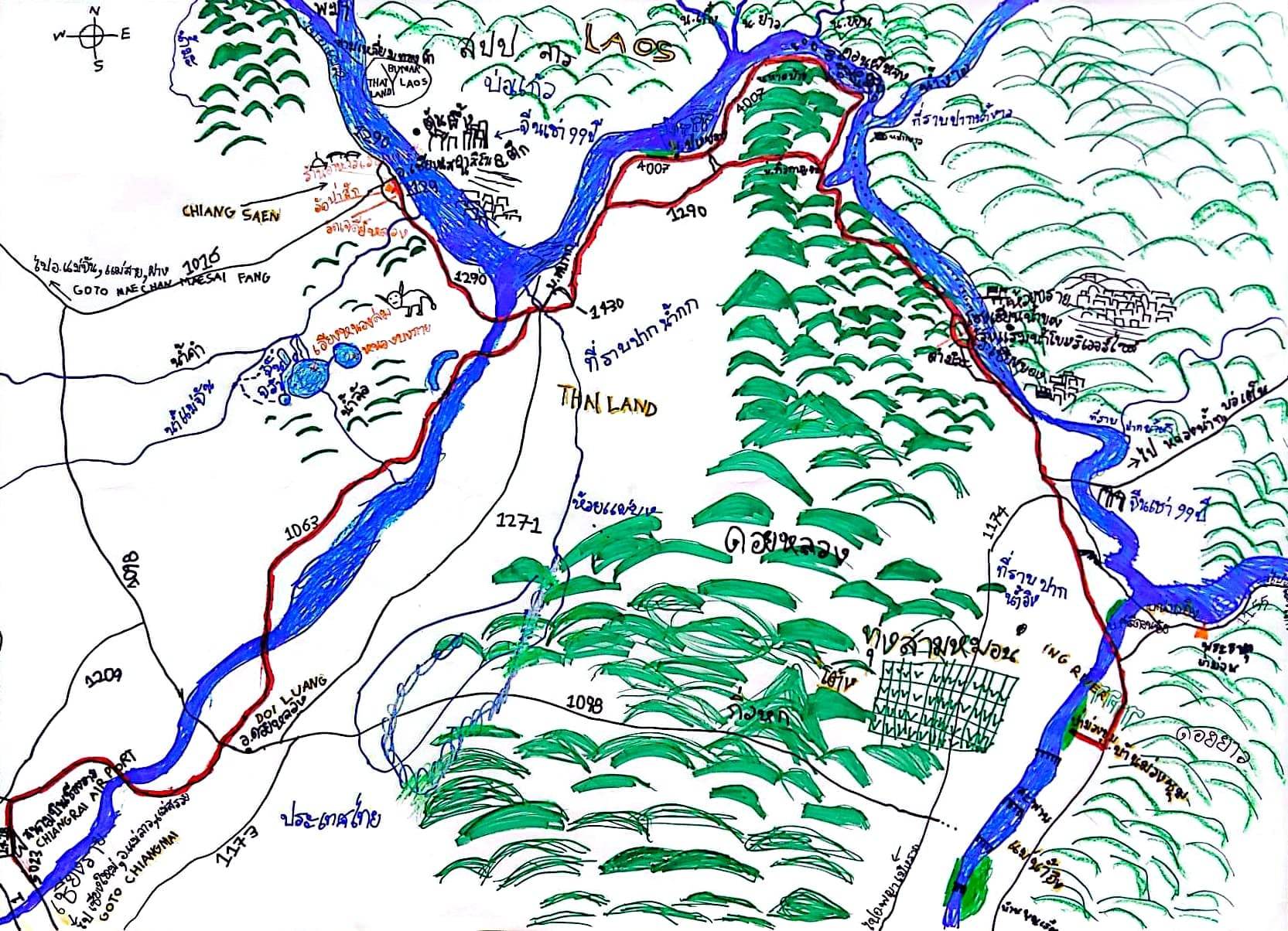 Rationale
Chiang Khong Conservation Group (CKCG) has been working since 1999 to help protect local water resources and strengthen people's environmental conservation networks in the Mekong river basin. CKCG is a member of Waterkeeper Alliance, a global non-profit organization that unites more than 300 community-based clean water advocates in 47 countries on six continents. 
CKCG co-organized the Asia Regional Summit with Waterkeeper International on 20-24 January 2023 at the Royal Orchid Sheraton Hotel, Bangkok, Thailand. The Summit brings together permanent and associate members of 15 Waterkeeper organizations from seven countries in Asia to create a network on water issues ranging from transboundary water rights, water quality monitoring, legal support, community work, and establishing rigorous international standards for the best practices for clean, drinkable, swimmable natural water resources and free-flowing rivers.
CKCG has also organized a side event from 24-26 January 2022 for a limited number of permanent and associate members of the Waterkeeper Alliance and Goldman Environmental award winners, as well as representatives of the network of people, youth and villagers in the Mekong River Basin in both the North and the Northeast region of Thailand. Together with our working group and local networks, CKCG has learned, exchanged knowledge, and built a network to protect transboundary river rights, which was recognized internationally in receiving the Goldman Award. Our side event will include learning and understanding the situation of the Mekong River together, after two decades of construction of dams on the mainstem and tributaries of the river, and learning from local and global water conservation alliances to protect rivers
Objectives
To facilitate the exchange of knowledge between riverkeepers at the international level with the local level networks in the Mekong Basin, as well as between scholars, Goldman prize winners, local forest and water keepers on the issue of transboundary rivers and tributaries, working through networks to protect rivers, and next steps after receiving the Goldman award.

To better understand the Mekong situation after two decades of damming the Mekong mainstem, and more than three decades of damming its tributaries, which will include learning about the global and local networks of riverkeepers.
Participants/Target Group - Total 45 People
Eight waterkeepers and Goldman winners

Ten members of the North-Eastern water protectors network

Seven staff, coordinators, and translators

Seven Youth from the Mekong Youth Program and mentors

Ten community leaders and their staff at PongKhong and MoungChum Villages

Three Academics
Agenda
January 23rd:
The Mekong Basin Youth Network, the new generation of NGOs from the Northeast will travel from the northeast until the evening, stopping along the way to learn how to fight against the Yom River Dam project, in Sa-Iap Subdistrict, Song District, Phrae.
WKA Asia Regional Summit
January 24th:
8:15 a.m: Load luggage into van at Royal Sheraton Hotel, Bangkok

9:00 a.m: Ride to Chulalongkorn University for Exchange discussion at Rotary Peace center.

11:30 a.m – 12:30 p.m.: 11 people and luggage go from Chulalongkorn University to Don Mueang airport. Eat lunch on the way? 

2:40 – 4:15 p.m: Air Asia Flight FD3207: travel by plane from Bangkok to Chiang Rai 
Please keep your boarding pass for our records – They will be collected on arrival in Chiang Rai
Mekong River Basin Youth Network will join the ordination ceremony at Pa Sak Thong, Yom River Basin before noon and depart for Chiang Khong, Chiang Rai Province. Check in at Tammila Guest House.
January 25th:
7:00 – 9:00 a.m: Eat breakfast at the hotel. 

09.00 – 10.00 a.m: Introduction to the Mekong River Basin at Chiang Rai and to Chiang Khong Conservation Group, at

The Mekong School: Institute of Local Knowledge

.

10:00 – 11:00 a.m: Break and Travel to visit

Muang Chum Community Wetland Forest

.

Discussions about land grabs, organizing to protect community forests, and the problems of the Ing River, which is a tributary of the Mekong River.

12.00 – 1:00 p.m: Eating in the

Muang Chum Community Wetland Forest

.

1:00 – 2:00 p.m: Return to

The Mekong School

,

and board the boat at

Hong Hien River Pier.

(snack break on the boat)

2:00 – 3.30 p.m: Cruise to

Kaeng Khon Phi Long

, an important area where villagers have worked together to protect the islands of the Mekong River. Along the way: discussions on local cultural ecosystems, and the

"Stop Blasting the Rapids"

campaign.

3:30 – 4:00 p.m: Break and prepare for discussion at

The Mekong School

.

4.00 – 5.00 p.m: Exchange Discussion: "The Next steps of the People's Movement to Protect the Watershed: The Rights of Rivers and Oceans – Returning life to Nature"

Khru Tee Niwat Roykaew,

President of Chiang Khong Conservation Group and Goldman Environmental Prize winner 2022, Thailand

Prigi Arisandi

,

Director of ECOTON and Goldman Environmental Prize winner 2011, Indonesia

Bunleap Leang

,

3 Rivers Protection Network (3SPN)

Senglong Youk

, Tonle Sap Lake Waterkeeper, Phnom Penh, Cambodia

Sirisak Saduak

, People's Network of the Northeastern Mekong Basin

Ajarn Thikamphon Rodmueang,

Mae Fah Luang University/

Ajarn Arisara Lekkham

, Lecturer of Law, Mae Fah Luang University

Mausam Khanal

, WKA Nepal Representative, Bagmati River Waterkeeper

Sharif Jamil

, Buriganga Riverkeeper and Waterkeepers Bangladesh

Daru Setyorini,

Brantas River Waterkeeper, Indonesia

Chris Wilke

,

Global Advocacy Manager, Waterkeeper Alliance

Moderator: Ajarn Apisom Intralawan

English-Thai translation by Leo Baldiga
5.00 – 5.30 p.m: Exchange and Ask questions: Read the statement from the People's Network to Protect the Mekong River.

During the exchange session, there will local reporters and Students. Some of the villagers will participate and there will be a live broadcast. 
6:00 p.m: Have dinner together at Mekong School
January 26th:
Morning: Check out from the hotel after breakfast.

8:30- 9:30 a.m: Travel to

Ban Pong Khong

, Mae Ngoen Sub-district, Chiang Saen District.

9:30 – 11:30 a.m: Visit the

Mekong River Youth Project

operation area at

Ban Pong Khong

. Walk and talk with community leaders and youth following the Mekong River to "

Lohng Pong Khong

" seasonal wetland area. On the way back, we will stop by to see basketry and other handicrafts, as well as a traditional style tobacco curing barn.

11.30-12.00 p.m: Travel to Chiang Saen city.

12.00 – 1.00 p.m: Have lunch,

Wiang Nuea Restaurant.

 

1:00 – 2:30 p.m: Wrap up discussion, summarizing the results of the excursion. 

2:30  – 4:00 p.m: Visit the old city of Chiang Saen.
4:00 – 5:00 PM: WKA & Goldman group: Travel to Chiang Rai Airport.
6:25 – 8:00 PM Flight: CEI-BKK: Air Asia FD3210 
Van to Na Siri Lakeview hotel

(

Check-in, Thursday 26 January 2023 (2:00 PM – 12:00 AM)
Check-out Friday 27 January 2023 (until 12:00 PM) Your reservation 1 night, 6 apartments, Na Siri Lake View is expecting you on 26 January – Guest will receive cash perdiem before leaving from Chiang Rai to pay for your hotel, breakfast, and taxi to the airport. 

Location : 103/1, Soi Moo Ban Chamchuri 14, Kingkaew 41, Kingkaew Road, Rachataewa, Bang Phli , Samut Prakan, 10540, Thailand, Phone +66 2 738 3483
4:00 p.m: New Generation youth NGOs from the Northeast: the van travels back to the Northeast, Arriving next morning.
January 26th:
Taxi to airport in the morning – Safe travels back to your home!